The digital success of Guy Demarle
For nearly 30 years, Guy Demarle has been a major player in door-to-door sales of quality cooking products (robots, accessories, utensils, coffee machines and more). It has a network of more than 6,000 sales consultants throughout France as well as Europe and the United States.
Popsell generates 13% of its turnover.
Popsell and Guy Demarle have been partners since 2014 and co-created the platform "Mon Instant Gourmand", which equips the network's 6,000 culinary consultants.
This solution helps consultants booster their visibility and reputation on social media. It also helps them with recruiting for culinary workshops and increasing revenue both online and during home-party selling workshops.
During the 2020 lockdown, all direct-sales companies were forced to sharply decrease their activity. With the experience and advances gained in its digitalisation, Guy Demarle generated a 35% increase in its turnover in 2020!
Additional web turnover (€k)
A digital social media tool to motivate and simplify the communication of each independent sales consultant.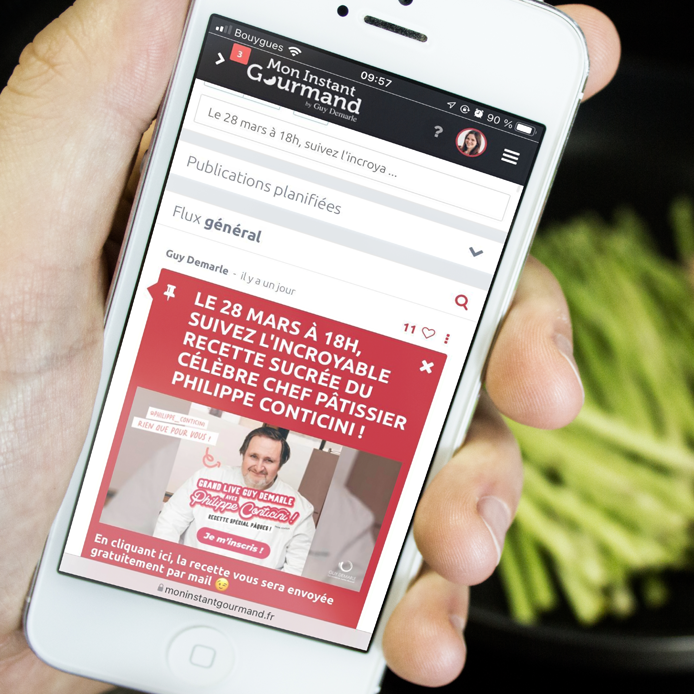 Independent sales consultants have access to numerous pieces of content provided by the brand so they can have more inspiring and illustrative communications with their customers. In two clicks, independent consultants can also share posts created by the brand.
Consultants can track the impact of their communications: opening messages, e-commerce and sales!
The flow of posts, newsletters, quizzes and especially the gamification and challenges are some of the many tools that help drive and maintain the platform's use over the long term.
"Popsell is a simple, innovative and effective solution that allows our sales consultants to share posts and offers with their circle of customers in just a few clicks."